The first breeze of summer sparks something unique in each of us.
The primal awakening, however, the closing of our eyes, the deep inhalation as the nearly-forgotten wind caresses us once more, remains universal. Summer tends to incite a hunger in us, it inspires a search for something deeply desired.
When that breeze hit me this year, I realized almost immediately that I needed something. And though I was not sure what at the time, I knew that it was something satisfying, something stunning. Something tempting, something tantalizing. Something my heart understood before my head could even discern its motives. I realized only after the road began unfurling behind my little red sedan like a great gray river that I knew, that day, where my impromptu one-tank trip was taking me. A place I wanted it to take me more than anywhere else in the world.
Not to the beach, glowing with sun and seduction, not to the bar and grill, pulsing with song and spirits, not to any other hub of symbolic summer romance. The sweetness I craved I knew would be fulfilled in only one place. At Jam Gluten-Free Bakeshop.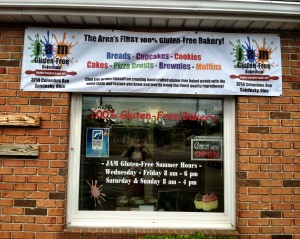 At the NEOCN Vendor's Fair in April, I had experienced the pleasures of this establishment for the first time, though its reputation had preceded it. I had spent weeks admiring (Well, alright. Ogling.) the tantalizing photographs on Jam's Facebook page, images of such a shifting array of exemplary baked goods that by the time I actually had the pleasure of meeting the proprietors of this lovely shop, the first (and only) words out of my mouth were a heartily sighed, "Oh, Jam…"
Let me introduce you to my summer crush. Continue reading GF Lex – My Summer Crush on Jam Gluten-Free Bakeshop →